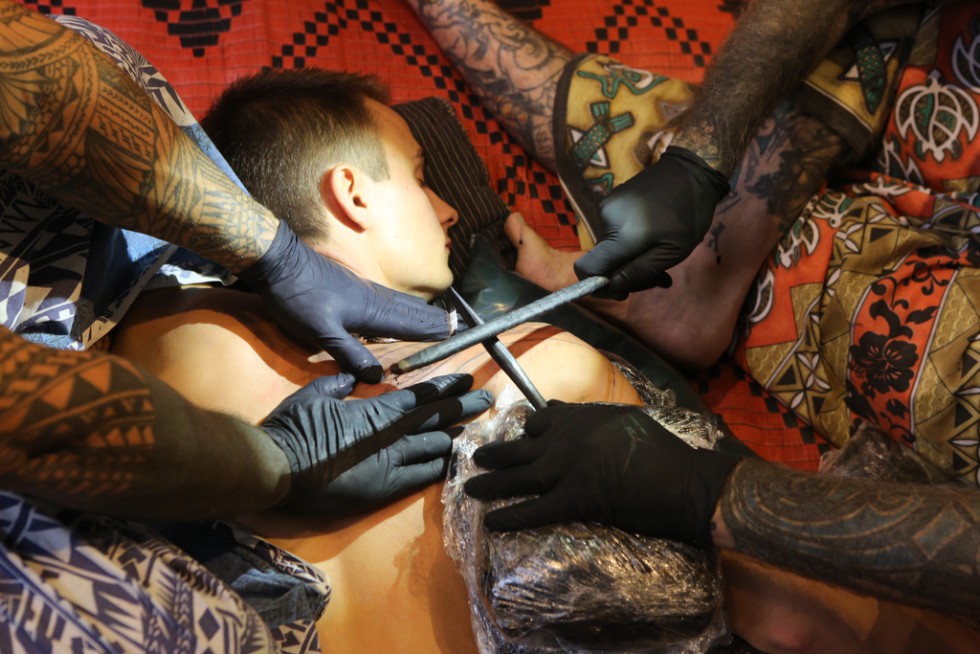 Last year, the exhibition Tattoo at Musée Quai Branly in Paris showcased a visual history about body art practice from all over the world. The reason to have one or more tattoos can be a personal expression, traditionally or culturally driven. Having ink has all to do with identity or belonging. For me, I 'd like to find a tattoo to fit my canvas, but what to choose?
For a fashion production and my first travel guide story about fashion, street style and food, I went to Copenhagen. During the street style shoot with photographer Jeroen Snijders, I met so many Danish with ink. "What are the reasons behind the tattoos?" I asked. One of the Danish said that King Frederik IX – a former sailor himself – had a lot, including one from Tattoo Ole, the first tattoo shop in the world in Nyhavn.
Fascinated about body art, a Danish jewelry designer suggested to visit Skin and Bone, just at the end of the street. There, I met Brent McCown from Tattoo Tatau and Colin Dale, owner and artist of Skin and Bone. The latter is specialized in symbolism from the Native American culture, Celtic culture and hand done tattoos. Originally from Canada, Colin Dale worked on a piece based on Icelandic symbols, while he was telling about his passion for this art form.
In another room, two men with tribal patterns on their faces were tattooing a man lying on the ground. One sat next to the man, carefully keeping his skin tight, the other performed an old tattoo style technique on his back. Covered in many impressive tribal tattoos, Brent McCown mentioned that there is a tattoo in everyone. He just has to let it come out in ink.
The frequent taps with the original tattoo tools sounded very calming, almost meditative and the energy in the room felt really good. Such an honour to meet these artists who were very nice to give a glimpse into their world, explaining their art and see them work with "old school" classical techniques. And maybe, maybe there is a tattoo in me just waiting to come out.
Skin and Bone
Jægersborggade 49 kld – 2200 København N Denmark
The Love CPH city guide is published in the Dutch Link Magazine, no. 4 /2015, out in stores now.