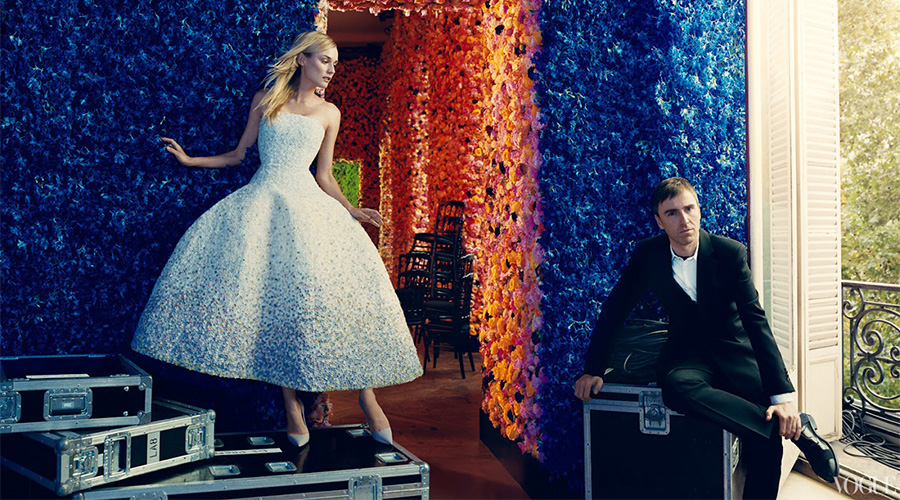 From "Valentino: The Last Emperor" to "Diana Vreeland: The Eye Has To Travel", filmmaker Frédéric Tcheng makes interesting and diverse documentaries about fashion icons.
Now in the cinemas is the new documentary "Dior And I". From hours and hours of footage, this is edited into a beautiful 90 minutes story about the relationship between Dior's newly appointed artistic director Raf Simons and the Dior atelier team. During an intense eight weeks, we as spectators get a glimpse of the process of creating the first haute couture collection.
From the first frames, I was mesmerized by the story. In the summer of 2012, the Belgian designer was introduced to the Dior's couture team, all dressed in white-coats. These women and men – seamstresses or the petits mains – are the driving force behind the couture.
One of the revealing things to see is how Mr. Simons, in close collaboration with the new team reinterprets Dior's apparent silhouettes into more contemporary feminine shapes. For example, a 1952 classic ball gown is transformed into an embellished peplum top paired with black silk cigarette pants with a black veil by milliner Stephen Jones. As an art lover, Mr. Simons infused works of art by the American contemporary artist Sterling Ruby.
The long awaited Autumn/ Winter 2012 Haute Couture show took place in a Parisian apartment, where the walls have been entirely covered with flowers in white, pink, red and blue, just like the big garden of Mr. Dior's parents' house in Granville, France.
This behind-the-scenes approach, mostly filmed on the Avenue Montaigne atelier and offices feels like a rollercoaster of emotions. Entertaining, touching and revealing, fashion is truly a labour of love.