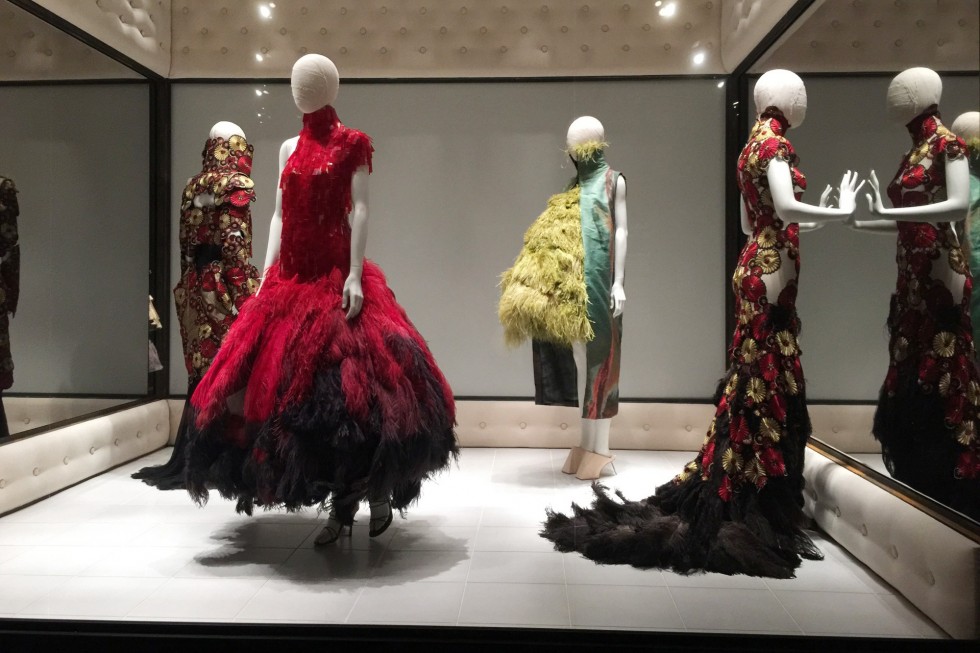 One of the most intriguing, talented and influential designers is Alexander McQueen (1969-2010). Victoria & Albert Museum London exhibits a retrospective of the late designer's work.
After hearing so many great stories from friends and pictures of the New York exhibition, I want to see this too. Queuing for an hour in the main hallway, looking at art together with fashion students, grand mamas with their grandchildren, art lovers and friends, finally it's show time.
"Alexander McQueen: Savage Beauty" showcases McQueen's amazing and inspiring legacy. Wandering through the spaces, it is evident that this beautiful exhibition leads you to all the hopes and fears of this creative fashion genius. For me, it is a rollercoaster of emotions to see the highlights of his oeuvre.
Fashion is a stage, a theatre spectacle for storyteller McQueen. The starting point of his collections is the Victorian era and the Romantic Movement, from a perspective of nature romanticism to gothic romanticism. But also historical references of Scotland and England, the feeling of nationalism, exoticism and primitivism are his interests.
Every space has its theme, special light design and music soundtrack to enhance the experience. The viewers are actually in a fashion fairy tale. What is beautiful, what is identity, everything triggers the imagination.
One of the most interesting galleries is the Cabinet of Curiosities. McQueen's work together with designs from milliner Philip Treacy and the jeweler Shaun Leane spark fascination and admiration. Another highlight is the holographic presentation of Kate Moss in a McQueen dress of white organza floating in the air. This presentation, in collaboration with Nick Knight and Show Studio is so amazing and beautiful.
I totally love the way the curators pay homage to this great artist. This exhibition gives me energy and inspiration. While looking at some of the masterpieces, I can see that he has inspired a lot of us who come to see the designer's visual language. It's simply overwhelming, McQueen's world.
Victoria & Albert Museum will be open 24 hours during the last two weekends, go and see! It will be worth the wait and the trip.
Victoria & Albert Museum London
http://www.vam.ac.uk/content/exhibitions/exhibition-alexander-mcqueen-savage-beauty/