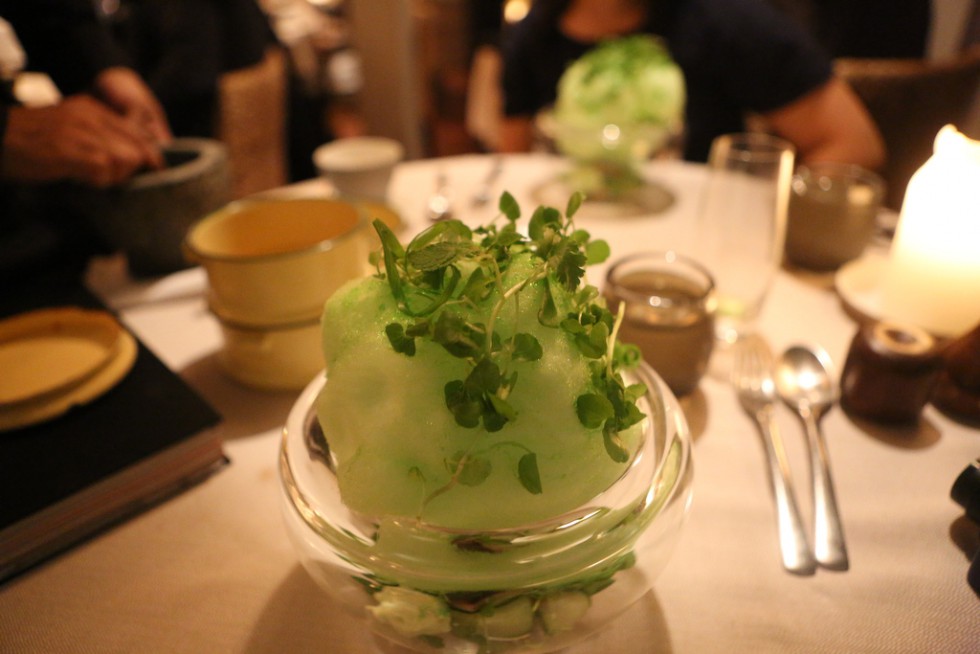 To make an interesting Copenhagen fashion and style guide, there are always great places to eat to include. In the Danish capital, I worked with a photographer who has a real fondness of good food. He made reservations at Kiin Kiin.
The cuisine of Michelin star chef Hendrik Yde is very innovative with traditional Thai dishes as a starting point. Let the feast begin. In the beautifully styled lounge with bamboo lamps and Buddhas, we started with modern interpretations of Thai street food. After many great starters, we head for the dining room upstairs.
Every single dish has a beautiful look and taste. Gastronomical highlight of the evening was a visual spectacle. A transparent bowl was filled with a green coloured light foam and watercress on top. The waiter made a special sauce explaining the ingredients while preparing. Then he poured the combined spices and sauce onto the foam and it collapsed, while a great fragrance evaporated. On the bottom of the bowl there was a finely prepared mackerel. Simply divine experience at Kiin Kiin.
If you'd like to try to make one of his signature style dishes, the cookbook noir "Dead and Fermented", with recipes and a visual storytelling with photos by the Danish-Hong Kong photographer Steven Achiam is a real visual treat.
Restaurant Kiin Kiin
Guldbergsgade 21
2200 København N Denmark
www.kiin.dk