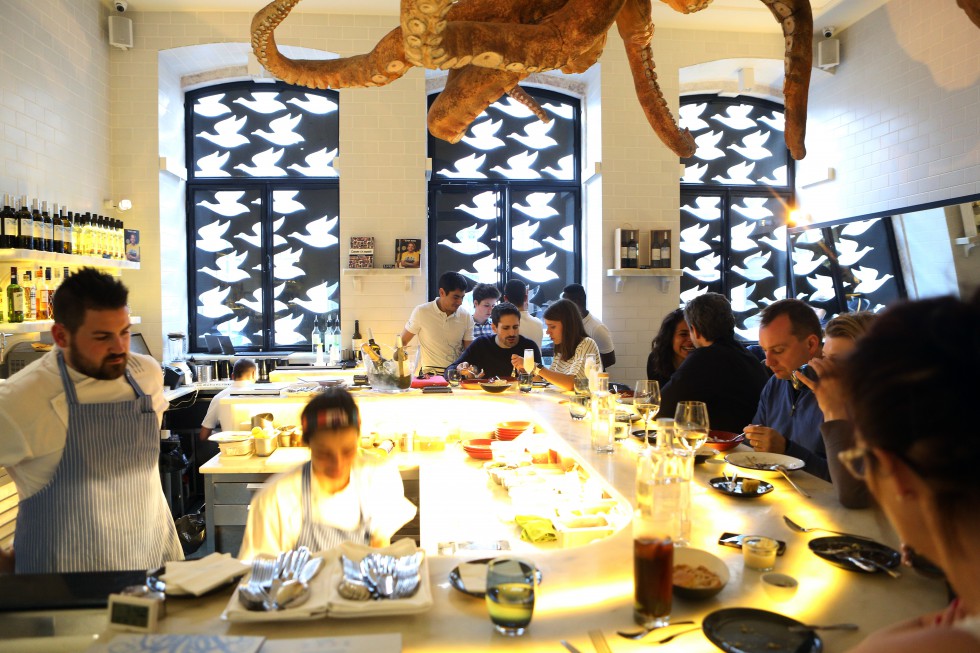 Always around March / April every year, a lot of foodies flock to Lisbon for the great culinary event Peixe em Lisboa. Fortunately I was there too to have a small chat with one of the most gifted chefs of Lisbon, Chef Kiko Martins.
Born in Brazil and with a love for food and travel, he studied in France. With a steady career, working in a Michelin starred restaurant, he thought: "this is not enough". So five years ago Mr. Martins – or chef Kiko – decided to change his culinary path.
Together with his wife Mary, he made a life-changing choice. They traveled to 26 countries with the mantra, "tell me what you eat, then I tell you who you are". Exploring and discovering inspiring food cultures, visiting families all over the world and trying their food heritage with grandma's recipes, the concept "Eat the world" was born.
Fast forward, in Lisbon, Chef Kiko has two restaurants: O Talho and A Cervecheria. For ceviche addicts, A Cervecheria is one of the greatest gastronomic hotspots in the cool Príncipe Real neighbourhood. The interior is a mix of traditional marble combined with modern outspoken interior pieces. A very big octopus floats above the space and it feels like we are somewhere in the ocean.
During Peixe em Lisboa, Chef Kiko gives demonstrations, presentations and short lectures. And now I have exactly five minutes of his precious time.
Have you ever been to the Netherlands?
"Yes, about twenty years ago, Interrail. I can't remember where exactly but I have been to places somewhere between Amsterdam and Utrecht."
What is the inspiration for the menu Peixe Em Lisbon?
"My second restaurant A Cevecheria is the starting point of the menu. I wanted a surf and turf idea for this food festival."
When are you the happiest?
"I cook to make other people happy. And I want to make my team happy, pass knowledge for a better tomorrow. Then life makes more sense."
Because Mr. Martins' profession as a chef, I always wonder if chefs cook at home. Yes, he cooks for his children Sebastian (4) and Gabriela (2). He replied happily: "They even eat raw fish".
Any scoops?
"Yes, This year I will open my third restaurant in Lisbon."
That's good news! Another reason to visit Lisbon again.
The next Peixe em Lisboa will be March, 30 until April, 9 2017
For more information, check www.peixemlisboa.com and www.chefkiko.com