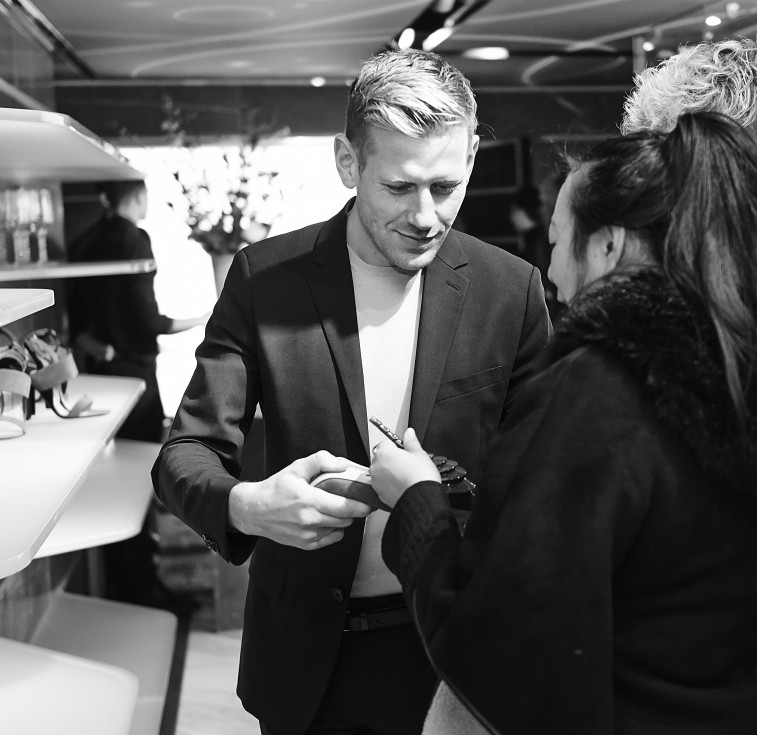 If you like beautiful shoes, very feminine, designed with craftsmanship, comfort and performance in mind, here is a new name to know, Paul Andrew.
There he is, wearing a fitted jacket, knitted sweater, dark pants, rolled up at the ankles and patent leather lace up shoes. The charismatic British designer elaborates about his design aesthetics.
After working for Alexander McQueen, Narciso Rodriguez, Calvin Klein and Donna Karan, Paul Andrew launched his luxury women's shoe collection in 2013. Perfect are his sky high stilettos, which have a very subtle concealed platform for comfort. For him, it is all about construction, unique designs and focus on comfort.
The corner store of Shoebaloo showcases his women's collection and also previews his first men's shoe collection for the upcoming Autumn/ Winter season. In his early career he also designed men's footwear at Alexander McQueen and Calvin Klein. So it is a natural step in his design career to launch a men's line with twenty one styles, from sneakers to leather dress shoes.
Who is his audience? Amicably he shares this anecdote: "When I was in Bergdorf Goodman, I saw three women trying on shoes and they all chose another pair. They were family: a grandmother, a mother and a daughter. So there is not one sort of girl, but I see her vary in stages of life. My design is performance wear driven, because you need shoes for every occasion in daily life."