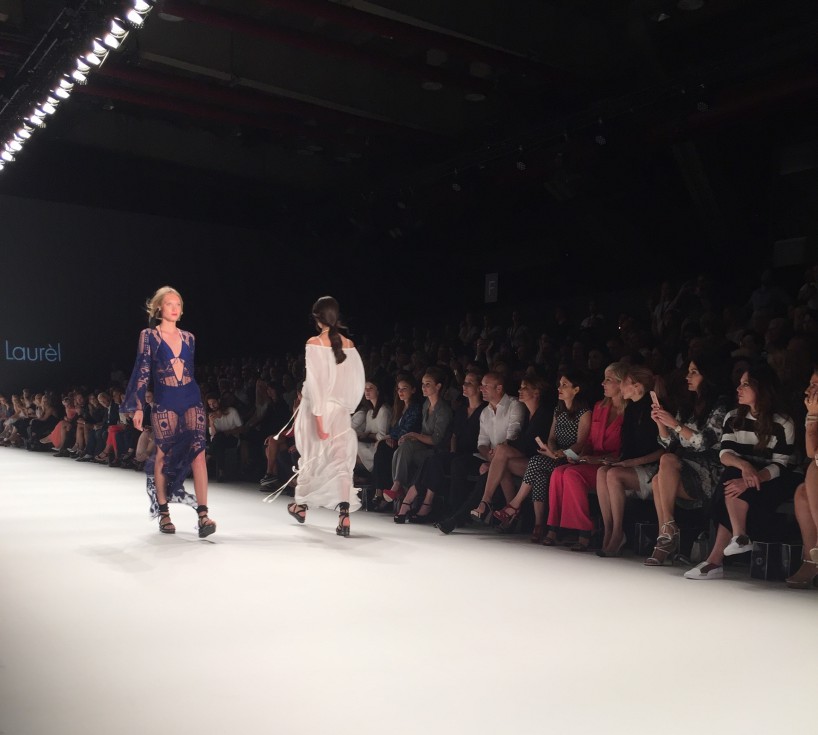 A Wednesday afternoon at Mercedes Benz Fashion Week Berlin: Celebrating life and a longing for holiday destinations like Bahia, Buenos Aires and Cuba are the starting points for Laurèl's Spring/ Summer 2017 fashion show. Sparkling with upbeat energy and a smile, models wear long flowy summer dresses, crochet style blue dresses over bikinis, Carmen tops paired with silk pants or flared skirts, tassels everywhere and black lace-up espadrilles-style wrap sandals, while walking on the soundtrack of Coldplay.
The collection title "Viva la Vida" says it all. Head of design Elisabeth Schwaiger explains: "In these difficult and changing times, we have to celebrate life. We thought of the Hispanic lifestyle, muses like Salma Hayek, Penelope Cruz, Eva Mendes and Jennifer Lopez. These inspiring Latinas show love and life we all should have. We are rediscovering our sensuous, romantic side." The collection exudes happiness and positivity.
With a changing fashion system, the fashion industry changes too, what are the ambitions for Laurèl? Miss Schwaiger explains: "For the Laurèl brand in general, I'd like to go more up and up. I come from a couture background in Munich. They did everything with craftsmanship. With Laurèl we have a big chance if we introduce more "couture" pieces.
There is just one problem, fashion is like fast food. High street labels deliver new all the time. This is very affordable, so what we have to do? We have to create something beautiful, because you want to have favourite pieces, which you won't give away. I'd like to create 30 special pieces each season, it would be a dream come true."
Why does Miss Schwaiger love to work fashion so much? She begins with a lovely anecdote. "In 1968 there were no exciting fashion houses, just fashion magazines and a tailor industry. My mum took me to the tailor. There she chose the fabrics and the tailor made 60's style dresses for her. They worked together on her way of dressing. I still remember the duchesse, cream with rose and Bordeaux roses. At the fitting, it felt very inspiring, the time with pumps gloves high heels, matching." And now she is living her dream.