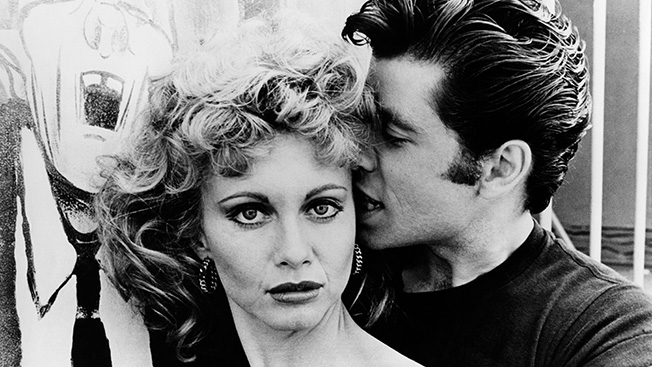 It was actually quite exciting, seeing my first movie in the cinema. The evening was so much fun, because I was with one of my sisters in Amsterdam.
To be honest, very honest, the ultimate American High School romance "Grease" (1978) is still one of my all-time favourites. Fascinated by the 50's looks of the  characters, with a hint of 1970's too, I am still very much in love by the styling, the looks and the music!
Designed by costume designer Albert Wolsky, the looks of the main characters Sandy Olsen (Olivia Newton-John), the Pink Ladies Rizzo (Stockard Channing) and Marty (Dinah Manoff) and of course Danny Zuko (John Travolta) are iconic.
The looks are still significant in fashion nowadays: woolen twin-sets, sweet dresses and skirts with fun characters, petticoats, cotton blouses with Peter Pan collars, capri pants, bobby socks plus kitten heels and of course the varsity jackets. Hair tied up in ponytails or poofed hair with a headband. And don't forget a neck scarf, tied at the side.
And for men? Marlon Brando and James Dean, the rock and roll style are a true inspiration for menswear. The fashion staple is a black leather zipper jacket, jeans, white t-shirt and black leather shoes. Of course, the hair in a rockabilly look with lots of grease.
This Autumn / Winter 2012 season, Moschino Cheap & Chic Milly and Oscar de la Renta took inspiration from this era, with a new remix of 1960s and a hint of 1970s style. I love the way fashion rocks!